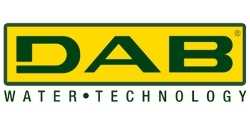 DAB
Dab offers a wide range of pumps, accessories, and technological pumping solutions with easy installation and ensuring savings on energy for domestic applications.

DAB is a brand owned by White International, one of the largest trade and industrial product distributors in Australia and New Zealand, partnered with major brands such as Bianco, Bianco iCON & iSolar, Rainsaver, DAB, ClayTech, Reflex, Zenit and many more. 
White International has rapidly grown into a national importation and distribution company servicing multiple markets across many different product groups: Pump Specialists, Trade & Industrial and Retail / DIY Hardware.
To learn more about DAB products for sale and pump sizing advice, please call us on 1800 244 389.